Student Life
The MSBA program is rigorous and includes plenty of room for all manner of growth. Rooted in a creative and collaborative approach to understanding the intersection of business and analytics, you will enjoy a fun and safe environment in which to experiment with different experiences, roles, and hands-on challenges. Working with faculty who are committed to your success, in just one year you will develop both a skillset and a network that will last you a lifetime. Hear directly from our students as they share their MSBA experience in a recent webinar.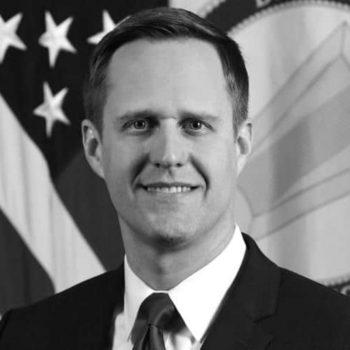 Jonathan Moak (MSBA '19) calls joining the United States Army the single best professional decision he ever made, helping to complement and propel a career in financial management to the top financial position in the U.S. Army. He was appointed the principal deputy assistant secretary of the Army (financial management and comptroller), and then became the senior official performing the duties of the assistant secretary of the Army (financial management and comptroller) in late October 2019. He is currently the Vice President of Strategy & Business Development at Salesforce.
Another key decision aiding Moak's career ascent: earning a Master of Science in business analytics (MSBA) degree from the University of Virginia in the initial cohort of the new program, which started in 2018. Moak graduated from the MSBA program on 4 August 2019 and interviewed for the assistant secretary of the Army position just two weeks later. He said a technology-focused master's degree made him a more compelling candidate.
"I just happened to have the right resume at the right time for the job," said Moak, whose new job is considered to be the chief financial officer of the Army. "I also believe this degree made me more competitive."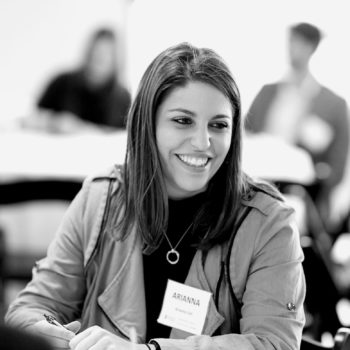 Arianna Zell (MSBA '20) was working as a digital marketing specialist when she began her MSBA journey, and as a member of the Class of 2020 Student Activities Committee, met outgoing committee member Roberto Andrade (MSBA '19) early on during a transition meeting. His experience at Capital One, where he serves as the director of people analytics, helped seal her decision to pursue a move to Capital One, which she did before graduating from the MSBA program.
"In the MSBA, we were all so fascinated in learning more. The whole program focuses on how to solve complex problems," Zell said. "The No. 1 thing that resonated with me at Capital One is that everyone is also hungry to learn. It's very much the same."
Zell summed up the advantages of the MSBA in the workplace succinctly: first, learning to speak a new technical language; second, the power of the network; third, the support of the entire MSBA community, including professors and program staff; and fourth, enhanced business acumen across functions.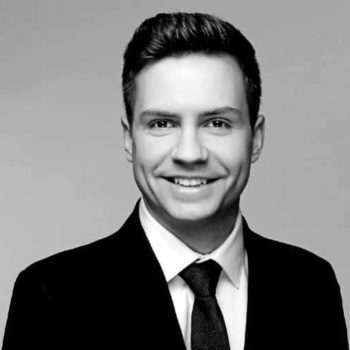 Jacob Achenbach (MSBA '20) has always been intensely curious and interested in learning more about a range of subjects, including music, data and business. Achenbach, who studied music technology as an undergraduate, became interested in the business side of manufacturing while at the University of Derby in the United Kingdom. He pursued an internship with Rolls-Royce, where he worked post-graduation, working in roles touching on project management, operations, strategy and continuous improvement. In 2020, Achenbach's project management skills were honored when he won the Association for Project Management's (APM) Young Project Professional of the Year award for his work on a particularly knotty issue at Rolls-Royce company.
Why did he choose to pursue his MSBA? "I was seriously debating whether to pursue an MBA or a technical data science degree. This program combines both," said Achenbach. "It's the intersection of business and analytics, and I loved the fact that you do not have to stop working while pursuing the program."
After completing the MSBA program, Achenbach moved to a new role as an associate with McKinsey & Company.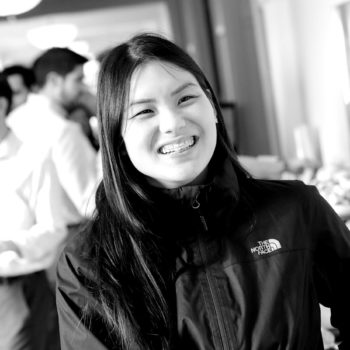 Connie Zhang (MSBA '19) earned her business economics and public policy degree from George Washington University in 2016 and accepted a position as a business intelligence analyst and technical project manager with the Consumer Financial Protection Bureau. She had considered pursuing an MBA, but found that the MSBA program offered more hands-on interaction with analytics, data science, and technology, emphasizing an all-important business context. In her current role, she serves as the Senior Knowledge, Data and Operations Analytics for the U.S. Department of State and also runs her consulting startup, JackTech.
When asked how the MSBA program and its coursework affected her plans and prospects, Zhang said, "What I learned from my MSBA degree will be with me for the rest of my life. From analyzing my personal finances with Tableau to predicting human capital turnover at work, anything I do will be done through the tools, perspectives, and frameworks that MSBA taught me. My MSBA degree, curriculum, faculty, and classmates have actually encouraged me to start my own business, JackTech, a consulting services company focused on technology. I was confident enough to make this decision because the program empowered me with all of the right tools and analytical skills from a technical perspective, and with a network of people who will always support me. I set up my own website using the skills I learned from the MSBA, set my prices based on analytics, and was given sound business advice by my professors and classmates."