Academics
Offered in partnership by the UVA Darden School of Business and the McIntire School of Commerce, the M.S. in Business Analytics Program is designed to put working professionals at the intersection of business and analytics. The applied, project-based learning enables students to build their analytics and business skills within real-world scenarios and data and learn how to communicate insights.
How will you learn?
Applied, project-based learning — often in teams
What will you learn?
Technical business analytics & executive presentation skills
Who teaches the program?
World-class faculty from Darden and McIntire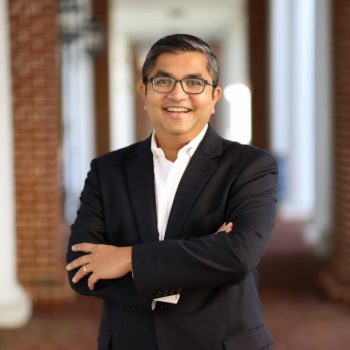 Professor Rajkumar Venkatesan teaches three marketing courses at Darden. Focusing on analytics as it relates to marketing return on investment, customer lifetime value, mobile marketing, and the global political economy, his research has appeared in Journal of Marketing, Marketing Science, and Harvard Business Review, among others. He is a co-author of Cutting Edge Marketing Analytics.
Many of his publications have earned prestigious awards (Don Lehmann Award for best dissertation-based article, MSI Alden G. Clayton award, ISBM Outstanding Dissertation Proposal Awards, ISBM award). He was recognized as a top 20 rising young scholar by the Marketing Science Institute and one of the top 40 professors under 40 by Poets & Quants, and among the top 5% of marketing strategy scholars by Journal of Marketing Education.
He has developed executive education programs or data analytics software for Capital One, IBM, Johnson & Johnson, and other companies. For his work with IBM, he was a finalist for the INFORMS Practice Prize Competition.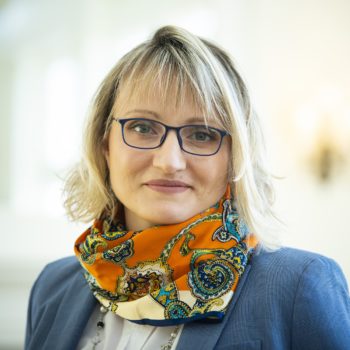 Associate Professor Elena Loutskina teaches in Darden's Finance area, where her research focuses on management of financial intermediaries. Her papers have addressed consumer finance, mortgage markets, small business lending, and regulation of financial intermediaries. Her work has been published in top finance journals, including Journal of Finance; Review of Financial Studies; and Journal of Financial Economics.
She has been invited to present her research at the Federal Reserve Bank, International Monetary Fund, and European Central Bank, among others. She was a visiting scholar at the Federal Reserve Bank of Cleveland, ECB, and Office of Financial Research. Her research has been cited in the Financial Times, and received Best Paper Awards and a number of grants.
Loutskina has received faculty teaching awards and has been recognized for her teaching accomplishments. Before joining Darden, Loutskina taught at Boston College's Carroll School of Management, where she received the Donald J. White Teaching Excellence Award.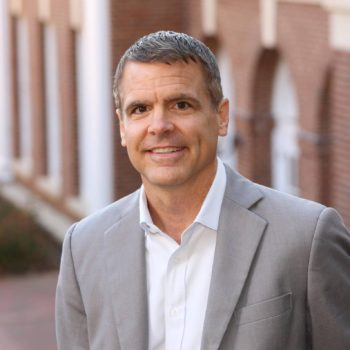 Professor James Maxham teaches Customer Analytics & Brand Strategy and global immersion courses exploring business, economics, and culture in China and Southeast Asia. His research examines quantitative consumer models that help marketing scholars and retail managers better understand customer loyalty trends. Recent work investigates how human resource management practices, service policies, product return policies, retail concept extensions, and loyalty card programs influence customer attitudes, shopping behaviors, and store performance.
Maxham is a member of the American Statistical Association, Institute for Operations Research and the Management Sciences (INFORMS), and American Marketing Association. His research has appeared in Marketing Science; Journal of Marketing; Journal of Marketing Research; Journal of Applied Psychology; and Journal of Retailing, among others. He has served on the editorial review board of Journal of Marketing, and serves on the editorial review boards of Journal of Retailing and Journal of Service Research.
He was previously employed by the NCR Corporation and Russell Stover Candies.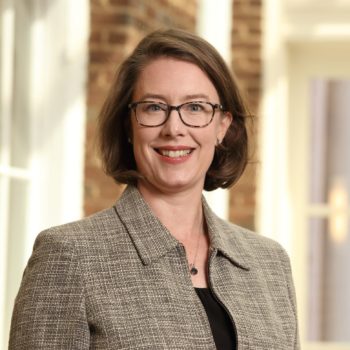 Professor Kerrie Carfagno teaches management communication at the McIntire School, with an emphasis on communication strategy, business writing, public speaking, and communication skills in relation to leadership, ethics, and corporate social responsibility. She is particularly interested in studying the impact of social media and other technologies on crisis communications and leadership, which is the focus of her research and the subject of her most recent national and international academic presentations.
Before joining McIntire, Carfagno taught business and communications courses at John Carroll University, the University of Alberta, and Penn State University. Carfagno's professional experience includes more than a decade of management and leadership roles in the telecommunications industry—mostly in startup entrepreneurial environments.